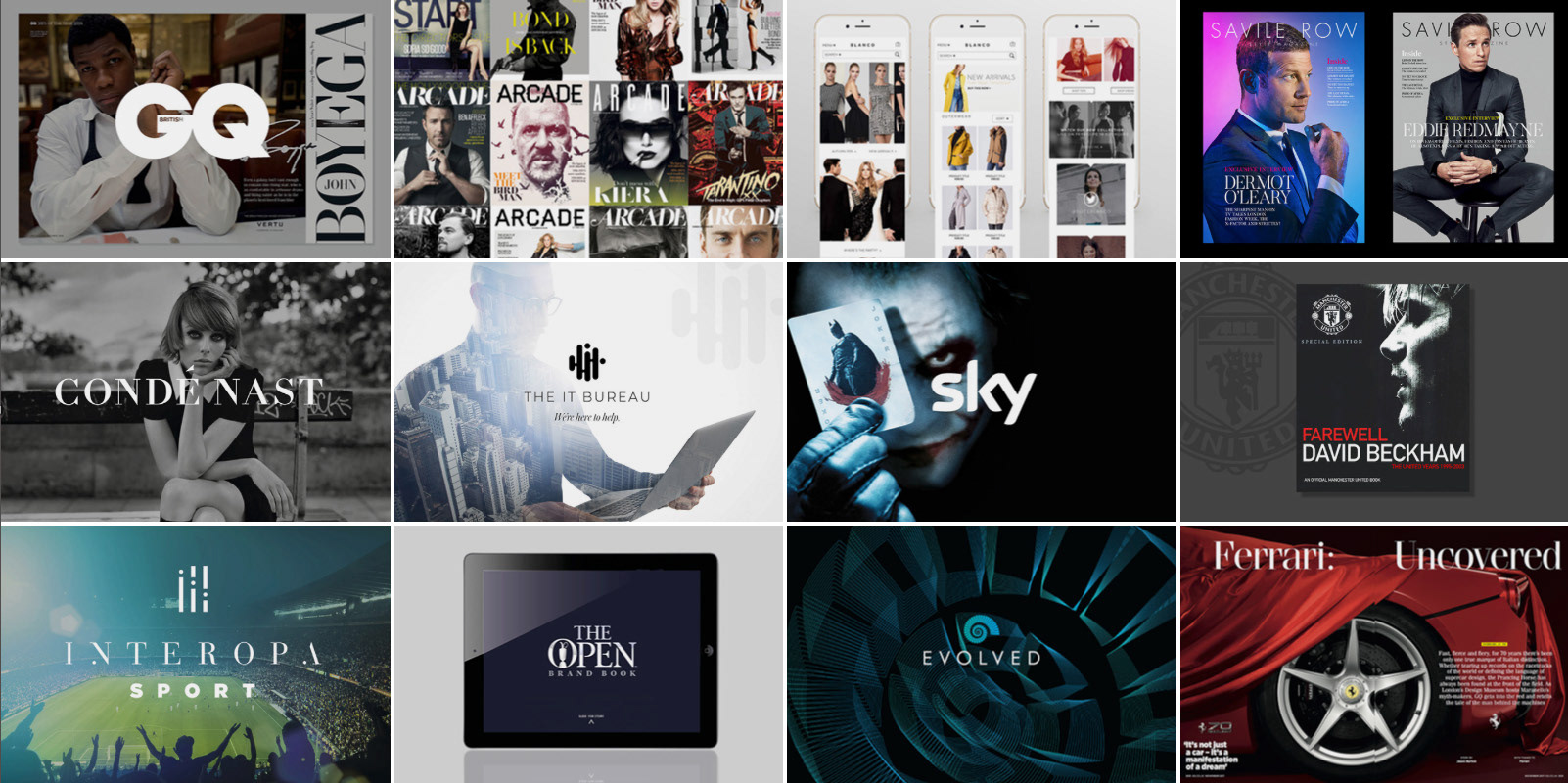 Creative with a wealth of experience across many areas of design, including working in ecommerce, brand marketing, digital products, commercial, customer and consumer publishing.
Currently I'm focused on several client projects including crafting new mobile and desktop websites for various agencies and companies. I also have been involved in the creation and development of new brands and design guidelines for my clients. I'm also part of Condé Nast International's team for the launch of GQ Middle East, designing a brand new magazine with the creative team.
Earlier in 2018, I worked at Commerce agency Salmon/Wunderman Commerce, as Head of Design, crafting and pitching new ecommerce websites and products for major clients including Sofa Workshop, Audi, Here Navigation, and Tempur. There I managed a team of four within the Customer Experience team.
From 2013 up to late 2017, I made a living as a self-employed freelance creative with my own clients in London. This work focused on app strategy, digital content publishing, app interface design, and also involved speaking at events for Adobe and Woodwing (digital solution providers). 
During this time I consulted for many London-based consumer and customer publishers, including Progressive, Hearst, Immediate, Condé Nast, on digital content app interface design for major UK titles including Elle, BBC Good Food, Cosmo, Tatler, Vogue, Esquire, T3, Men's Health & Red magazines. This work also involved training full editorial and design teams in interactive design for mobile and tablet, and the solution software requirements. 
In 2017, I worked primarily as Contributing Art Director for British GQ, on various projects, including editorial design - creating the look and feel for the Men Of The Year Awards 2016/17, editing videos - adding ident designs and captions for awards footage, designing the GQ Food & Drink Awards collateral, and art direction across several print issues of GQ and GQ Style – including commissioning illustrators, and photographers/stylists for shoots. It was a privilege to collaborate on such a well-known brand with GQ's Creative Director, Paul Solomons.
Previously to my period of self employment, I was at Future plc for over 14 years, and for three years led the design direction for the Technology group's tablet and mobile apps, managing a team of four. In 2010, I was Creative Lead on the launch of T3 iPad Edition, the UK's first iPad magazine, which went on to become the UK's best-selling (and multi award-winning!) content app. I also led the creative solution designs for commercial clients. From 1999 to 2008 I was design lead on the Manchester United account - working across publications, books and media products.
I've always enjoyed art directing photoshoots, whether it's people, product or places - and have worked on shoots with many A-list names including David Beckham, Ricky Gervais, Cristiano Ronaldo, Sir Alex Ferguson, Mark Hamill and more. I've organised and worked on a wide variety of product shoots for Bentley, Gillette, Guinness, Roma FC, GQ Food & Drink Awards, Sky Movies, and many more.
Creative direction (print + digital)
UI design for ecommerce / websites
Art direction for photoshoots product / people / concept 
Creative solutions & commercial design
Editorial content design (grids/layouts/typography)
Design team management, mentoring
Brand development + guidelines, style guides
Photography - architecture/interiors
Events design, eg: brochures, collateral, logos, styling
Iconography and pictography
Training, inspiration, best practice, learning
App development and iOS submission/launches (AEM/Adobe DPS)
Marketing / promotional design - copywriting and concepts
Adobe Creative Cloud: InDesign (expert since 2004), Photoshop (expert, since 1993), Illustrator (since 1996), Adobe Muse, Sketch, Invision, Microsoft Office, Adobe After Effects, Video edits and compression tools. Adobe Digital Publishing Suite (Certified Expert, Adobe Partner level), Adobe Experience Manager Mobile (Certified Expert)